This is the end of this meeting!
OL beat PSG (3-2), thanks to a goal from Wendie Renard from the penalty spot (23rd) and a double from Catarina Macario (34th, 51st) on one side, against goals from Marie-Antoinette Katoto ( 6th) and Paulina Dudek on penalty (58th) on the other. The Champions League semi-final second leg will take place on Saturday April 30 at 9 p.m.
Votikova's Parade!
Ada Hegerberg, well served by Amandine Henry, comes up against Barbora Votikova!
Katoto's Strike!
Marie-Antoinette Katoto takes her chance, but her ball ends up overhead!
OL break the rhythm
Delphine Cascarino suffers from cramps. She leaves her place to Emelyne Laurent.
What about the return match?
It will take place on Saturday April 30 at 9 p.m.
We don't take risks in Paris
Ashley Lawrence is replaced by Elisa De Almeida.
Hard blow for PSG
Ashley Lawrence is currently in treatment.
PSG insists on
Chances are rare, but PSG insist on at least equalizing.
Parisian youth
Laurina Fazer is replaced by Magnaba Folquet.
First change for PSG
Ramona Bachmann replaces Sandy Baltimore.
Geyoro offside!
Grace Geyoro had yet equalized, but this goal will not be validated.
OL are not immune
PSG will try to bring danger, on a corner.
The VAR, still in demand
An offside was whistled against OL, but a penalty was also checked. Finally, PSG can revive.
Double change at OL
Melvine Malard and Selma Bacha are replaced by Eugenie Le Sommer and Perle Morroni.
Bacha is not better
The Lyonnaise is not recovering from her shock to the head. The healers return to the lawn.
Another yellow card against PSG
This time, it is Sakina Karchaoui who is warned, for a foul on Delphine Cascarino.
Bacha is sounded
The Lyonnaise took the ball full head. She is neat.
PSG is back in the game!
Paulina Dudek takes care of this penalty and converts it with a left foot strike! Christiane Endler, part on her right side, touches the ball, but it is not enough!
Penalty for PSG!
The referee returns and awards a penalty for PSG.
Penalty for PSG?
The game is stopped, for a potential handball by Melvine Malard in the penalty area. The referee will check the images.
Corner for OL
Sandy Baltimore punches, but she gets countered. Corner for PSG.
OL insist
Catarina Macario takes her chance again, but it's countered.
WHAT A GAG GOAL!
OL takes off!!! After a huge misunderstanding between Paulina Dudek and Barbora Votikova, Catarina Macario took advantage and scored a double!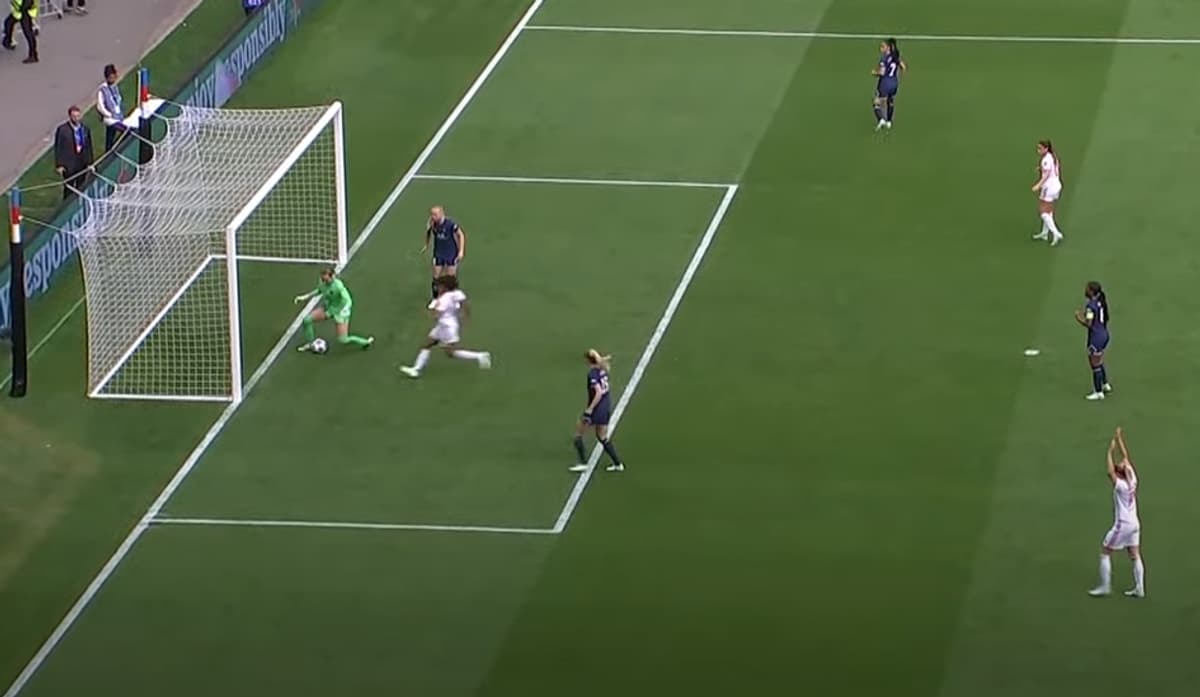 We leave with the same
No changes to report at the break, on either side.
It's time for the second period!
The kick-off was given and PSG engaged.
It's halftime!
At the end of the first 45 minutes of play, OL lead against PSG (2-1), thanks to goals from Wendie Renard, from the penalty spot (24th) and Catarina Macario (34th) on one side, against an achievement of Marie-Antoinette Katoto (7th) on the other.
OL is pushing
On this corner shot by Selma Bacha from right to left, the ball is sent into the penalty area. At the far post, Ada Hegerberg does not fit her header.
Corner for Lyon
Melvine Malard, at the entrance to the penalty area, strikes with the right foot, but it's unscrewed. The referee indicates a corner.
Vigilant Votikova
On the right side, Ellie Carpenter manages to cross, but Barbora Votikova lays down on the ball.
PSG is struggling
After a side pass, full axis, the ball is lost. Behind, the Parisian defense is mistreated!
PSG tries to leave
After these two goals taken in ten minutes, PSG took a hit behind the head.
Macario, and eight
Catarina Macario scored her eighth goal in the competition.
OL take the lead!!!!
After a bad recovery from the Parisian door, OL recovers the ball. Perfectly thrown into the penalty area by Ada Hegerberg, Catarina Macario scores!
Lyon has struck more
Seven shots for OL, against four attempts for PSG.
PSG nevertheless have their foot on the ball
53% possession for the Parisiennes against 47% for the Lyonnaises.
31st goal for Renard
For her 100th game, Wendie Renard scored her 31st goal in the competition.
Equalization of OL!!!!
Wendie Renard takes care of this penalty and transforms it, with a strike with the right foot! Barbora Votikova had started on the right side, on her right, but she can't do anything!
Penalty for OL!
Full axis, Melvin Malard, completely alone in the penalty area, strikes with the right foot, but Barbora Votikova intervenes! Behind, the Lyonnaise is mowed down by the door! Penalty for OL!
Another corner for PSG
Then a third. The Lyonnais are cornered on their goal.
PSG stay ahead
The Parisiennes even get a corner, thanks to Kadidiatou Diani.
Katoto insists
Marie-Antoinette Katoto, in the penalty area, takes her chance, but it's too much.
First yellow card out
For a foul on Lindsey Horan, Grace Geyoro is already warned.
20th goal for Katoto
For her 25th European match, Marie-Antoinette Katoto scored her 20th goal.
OL's response!
From a distance, Amandine Henry, in first intention, takes her chance with the left foot, but Barbora Votikova seizes the ball.
Goal validated!
The goal is validated and OL will now have to react quickly.
Goal validated?
The VAR comes into action, to ensure the validity of this goal.
Opening of the score for the PSG!!!!
Well served by Sara Dabritz, Marie-Antoinette Katoto, in the penalty area, plays with the Lyon defense and adjusts Christiane Endler!
OL, the pass of twelve
OL are playing their twelfth semi-final in the competition. It's unprecedented!
Let's go for the first period!
The kick-off was given and OL engaged.
The Legend Fox
Wendie Renard will play her 100th European match!
A Croatian referee whistling
At Groupama Stadium, the match will be refereed by Croatian Ivana Martincic.
The composition of PSG
Didier Ollé-Nicolle opts for a 4-3-3: Votikova – Lawrence, Ilestedt, Dudek, Karchaoui – Fazer, Geyoro (c), Dabritz – Diani, Katoto, Baltimore.
Replacements: Picaud (g), Voll (g), Bachmann, E. Cascarino, De Almeida, Folquet, Huitema, Ildhusoy, Khelifi, Le Guilly, Luana.
The composition of OL
Sonia Bompastor opts for a 4-2-3-1: Endler – Carpenter, Buchanan, Renard (c), Bacha – Henry, Macario – Horan, Cascarino, Hegerberg – Malard.
Replacements: Bouhaddi (l), Holmgren (l), Benyahia, Gunnarsdottir, Laurent, Le Sommer, Mbock, Morroni, Sombath.
Lyon's probable XI for the Champions League semi-final first leg against Paris-Saint Germain
Endler
Carpenter, Mbock, Fox (c), Bacha
Henry, Horan, Macario
Cascarino, Hegerberg, Malard
AR.
Beautiful people for this meeting
Angelo Castellazzi and Leonardo are present for the match.
AR
Hello everyone!
Welcome to RMC Sport to follow the Lyon – PSG match, semi-final first leg of the Women's Champions League, live and in full. Kick-off is scheduled for 5 p.m.
#OLPSG #live #option #final